Sector53 Development Log 5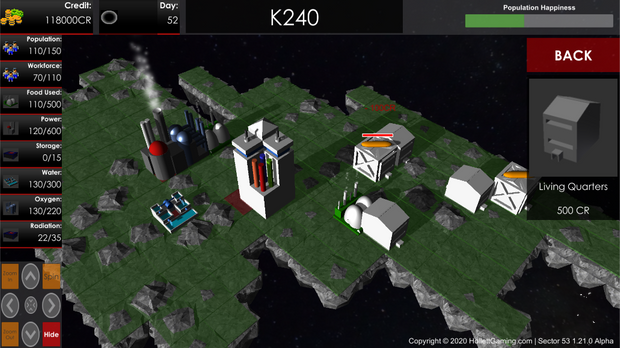 We thought we would give you all an update on the development progress for Sector53, our space based, asteroid mining game based on the old Amiga title "K240".
The last update here was a couple of months back, so we havent got huge amounts to report, but since we are all on lock down with the COVID-19 situation, it gives you something to read!

Here is a bit of a list of things so you can see what we have been up to:
Gameplay: New ores added
Gameplay: Add victory condition checks - so the game tells you if you passed the objective
Buildings: Some buildings now use ore from the asteroid each day
Buildings: Ore requirements for all buildings now added (daily usage amounts)
Buildings: Multi build option - keep it selected so you can build many
Buildings: Multi build selection is auto cancelled if you build a building and reach the limit of these allowed
Mining: Updated the mining checks for each type of mine to only look for ores it can reach
Mining: Updated ores to be class based for easier coding of future use of ore
Mining: Converted all ores to new class version
Campaigns: Redesign the campaign select screen
Campaigns: Updated campaign view screen to show the difficulty and victory conditions
UI: Main Menu updated to work better on different screen sizes
UI: Added autoscale text to main console top bar and left info panels
UI: Change bottom menu to be on the right instead
UI: Added little -xCR above buildings when being built to show credit usage
UI: Added autoscale text to both dialogue popups
UI: Main dialog elements improved
UI: Amended scaling and layout of main dialogue popup
UI: Added autoscale text script and tagged the right menu buttons with it
UI: Menu Button colour and design updated to closer match the original K240 game
Optimisation: Amended end of day calculations for mining and usage of ores to only run on full day processing (not partial)
Optimisation: Combined story line stages to minimise button presses, now we have better text scaling
Optimisation: Added Safe Area support for phones with notches - applied to most menus
Optimisation: Moved story dialogue into the campaign mission data instead of a separate data list so no cross referencing is needed
Optimisation: Updated scroll view calculations functions for better handling of different screen sizes
Intros: Scaling of images and text improved
Trading: Update UI elements to be line items
Main Menu: Added camera movement and Earth image updates
That's it for the moment!
Keep safe everyone.
Want to play Sector 53 now?
The most recent Alpha version (1.21.0) was released on Mar 27th 2020, to our test group to play as it stands at the moment.
There is a PC and Mac OSX alpha release, playable now.
You too can play the alpha version of the game and be involved in the games development here:
Written by Ford Hollett on the 30/03/2020