Fightback Free iOS game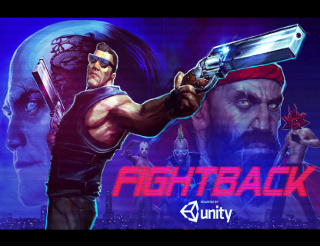 Fightback has been released for iOS, taking us back to the 90s side scrolling beat em up days, with a modern twist.
The basics of this game are quite simple, beat you way through the streets or as it is in this game, floors of tower blocks.
And the story line is the same format as those old arcade games, fight to get to a big boss who is holding someone kidnap.
Ok so nothing new here, but this works especially well on the modern touch screens we have in our pockets these days.

The controls are simple, a little repetitive in a way but great fun all the same. Its great to see how well the swipe and tap controls have bee utilised for this genre, with gestures providing the ability to perform certain moves.
Its also great to see the engine used is the Unity development platform. This is a great showing of what Unity can do.
Ragdoll effects on your enemeys once killed is great to watch, especially when you catch them with a powerful flying kick.
Slowmotion effects also make an appearance when performing evades, or when using a gun to select and shoot targets.

The developers have also been kind with the free to play, pay to progress format of the latest big games.
Its easy enough to earn credits and gold bars and the time to wait for your stamina to replenish so you can continue playing is quite short, only if you are really impatient do you need to spend any real money...
That being said, some of the high end equipment and upgrades would take an age to earn without spending any money, but these are not essential to complete the game.
Power ups and upgrades are god fun and there is a never ending street mode you can play to try get though as many streets as possible should you get bored of story mode.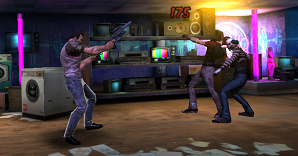 The verdict:
Well put together game, easy but rewarding gameplay and controls, fun and long lasting.
Download for free now:
Fightback on the App Store
Gameplay:

Easy to learn, fun to use controls, very satisfying beat em up.
Graphics:

Great use of Unitys graphics for mobile devices, not the best ever but pretty
Longevity:

Will keep you going for a long while, though controls and format can be a little boring after a while.
Hollettgaming Overall Rating:


Great free iOs game, get it if you love beat em ups.
Written by Ford Hollett on the 28/12/2013