Chris Moyles Game Coming Soon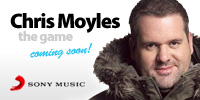 A new game is being developed by Koko Digital for Chris Moyles' forthcoming album.
Sony Music have appointed Koko to develop the new Chris Moyles viral game to promote his up-coming parodies album which is due for release this month!
You will take control of Moyles in the game which will no doubt involve killer rabbits, nanas in windows and everyone's favourite, the nagging girlfriend amoung other things! Prizes are also up for grabs, so be sure to check back soon for the game launch!
Koko provide some fantastic games already featured on our site. To check them out, try our
Koko age here
or visit
http://www.kokodigital.co.uk
Written by HollettGaming on the 09/11/2009