American Truck Simulator Release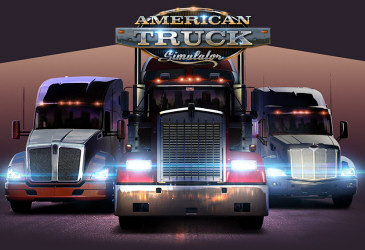 Game developer, "SCS Software", are set to release the American version of Euro Truck Simiulator, "American Truck Simulator" early this year.
The game looks to be in the same format as Euro Truck Simulator, just starting out in California.
They state to be releasing the gaem with a load of content, but will release more updates later.
Euro Truck 2 is still going today and is regularly updated, so we doubt they will disapoint us.
Here is SCS Software's marketing explaination of the game, with our comments:
Experience the American Greatest
Drive the most famous American trucks and deliver various cargoes across the United States.
Well at least you will start with a 'handful' since they don't have all the licences yet, it will only release with some but they have plans to add many more.
Haul Through the Legendary Roads
American Truck Simulator will take you on a journey throughout the vast
landscapes full of breathtaking and iconic landmarks of North America
Well, for now just California!
It is the "Big Ol' US of A" don't forget. It's going to take time to map this out!
Become the King of the Road
Get in the seat of a driver for hire entering the local freight market and work your way
up to create one of the largest transportation companies in the United States
This one will be teh case from the start, the game engine used is the same as Euro Truck Simulator 2, it's almost identical.
You can earn enough money trucking for others before you buy your first actual truck.
After a while you will be able to buy your own depot and start hiring other drivers.
Before long (we quite long actually :-) ), you will be buying more depots and more trucks to expand your empire.
You can also invest in training your drivers to get more rewarding jobs or simply hire more experianced ones.
Not only that, but SCS have also developed a new Mod Tool for use with Blender. The community already heavily Mod Euro Truck 2, so this comes as a great addition to the franchise.
This will offer some structure to the Mods created and allow more powerful features for Modders from the offset and will pave the way for future expansion of the USA map no doubt!
We love Euro Truck 2 so much, we can't wait for this one.
Check out the video below.... Oh and almost forgot, it's out February 3rd 2016!
Written by Ford Hollett on the 09/01/2016