Virtual Airliner 2.099 Development Update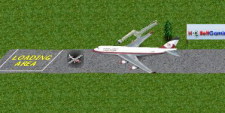 Today sees the release of version 2.099 of Hollettgaming.com's Virtual Airliner 2 game.
There have been some great new additions since our last news post on Hollettgaming.
New aircraft have been added such as an A380, a microlight special edition and a Concord! Many new bug fixes are also on place to improve the play and some extra features have been put in place too like the ability to own up to 4 aircraft at a time now instead of only 1.
Check out the full information on
www.virtualairliner.com
Written by HollettGaming on the 15/01/2012