Tennis Champs Returns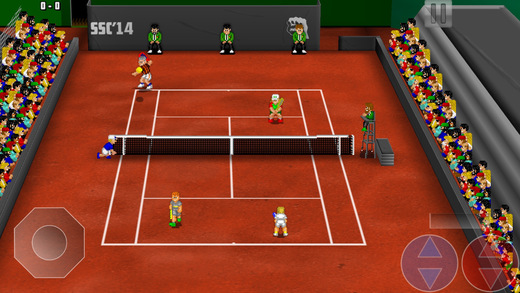 Ok, so I found this the other day and got totally addicted in minutes!
I played the original back in the Amiga days, which came on the cover disk of an old Amiga Power magazine.
And this remake on the iOS is nothing short of spectacular.
It's super addictive and hard to put down.
Not only has it been remade, but improved and made better with career mode and training.
Part of the fun of this game is learning the controls and how to pull of curved shots, drop shots and top spin shots, not to mention a good lob shot at the right moment.
The game starts off pretty difficult, but push through and you get a really great sense of achievement as you climb the world rankings and improve your players skills.
There are hundreds of AI players to go up against and many tournements to play.
There's daily challenges too which earn you rewards to help you progress.
Its totally free to play aswell, which is great to see, however it does come with the annoying watch ads to earn coins you need to enter competitions.
Infact, I'd say it was a little too heavy on adverts, you sometimes get a popup video you can't skip just before playing a match.
For a small fee these can be all removed so it's not all bad and the poor developer needs to make some money somehow!
I would advise you pick this one up, its too fun to miss out on.
Here's the official blurb:
"Remade completely for iOS by the original Amiga version programmer Elton Bird, using the original characters and retouched animation, combined with all new physics, AI, new controls, Daily Challenges, and a great new Career mode.
Daily Challenge serves up a mixture of modes, tennis games, opponents and mini games each day, with completion yielding rewards to help you in your career.
Career mode pits you against a field of 200 Tennis Pros on a full world tour packed with Events."
History of Tennis Champs:
"Originally received from coder Elton Bird as a PD game for review, Amiga Format passed TENNIS CHAMPS on to sister mag Amiga Power for inclusion as a coverdisk and Audiogenic for commercial evaluation. Audiogenic promptly signed the game up for publication and asked it be recoded from AMOS into Blitz BASIC, so that more players/tournaments and extra features (e.g. doubles involving human/computer partners, 4 player joystick adapter & joypad support) could be incorporated into the commercial release that eventuated into a sequel. Within 6 months, the game was released commercially as SUPER TENNIS CHAMPS."
Written by Ford Hollett on the 11/08/2016