MegaWars Remake Coming Soon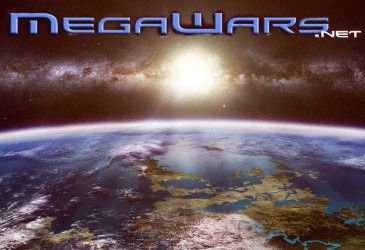 We caught up with David Baity (Chief Technical Officer) and Matt Parisi (Chief Executive Officer) of Crimson Leaf LLP, heading up the remake of an old classic "Mega Wars".
For those of you unfamiliar with the original Mega Wars, it was a space war game in the 80s and 90s, text based and could be played over the internet.
David played some of the very first wars back in 1984. Back in those days, it was also rather expensive to play.
After the closure of the game servers in 1999, David had grown a great passion for the game and didn't want it to end.
David wanted to bring back the game and make it "more accessible and cheaper for fans" like himself to play.
This inspired him to learn how to code such a game.
In 2009, David started to rebuild the game in HTML, with the help of other fans of the original.
While following the same gameplay mechanics, the entire game was recoded from scratch and was even based on the original manual, allowing the fans to play once again and help tune the game to the communities liking.
Still predominantly browser based with text and images only, it was time to stepup the game to a new level, to entice an entirely new fan base.
The new Mega Wars game is now in development in full 3D glory, based on the Unity Engine.
Gameplay keeps as close to the original as possible, but with notable enhancements of course with modern day technology on hand.
The main unique thing about Mega Wars is the way the "wars" work.
A war or multiple wars in the Mega Wars universe last 30 real days. During this time you can play as much or a little as you like and help your team of other players take over planets and conquer the enemy team.
Scoring is done both individually and as a team, to determine the winners and the end of the war, before a new war begins.
Once a war is over, the game is all reset for the next war. You can't take anything with you from the last game and tehre is no level up system.
This keeps players on equal grounds with each other, even new players, though a skilled veteran of the game would have the upper hand.
It is all about skill and strategy.
There are also other game modes outside of the 30 day wars.
Academy mode allows players to go play on their own with no need for other players around, a single player mode if you like.
5 v 5 team mode is a faster play option, lasting just an hour or so, rather than a full on 30 day war.
Other game modes will be available too.
Currently in Alpha stages and under going internal review, a Kickstarter launch starts in July.
Once the Kickstarter ends, August will see the release to Beta which is where things will get interesting as players can play the game straight away while the game continues to be developed.
Official game release out of Beta is looking to be the end of the year, targeted at PC, Mac and Linux initially.
At release this year for desktop, there will be an app too for mobile phones, to allow alerts for the game and some planet management, but not a full scale game.
When asked about the possibility of a full mobile version, David and Matt were keen to point out that if the community wanted it, it certainly would be considered:
"We are an indie shop, and if the community wants that then we'll make sure we get it for them..." says Matt
There are plans for release on Playstation and Xbox later next year should things all go to plan.
This is effectively a game made by the fans, for the fans with a great amount of passion and community input.
It should be without doubt a real "blast"!

Look out for more news on this and don't forget to check out their website here for more information:
http://www.megawars.net
Written by Ford Hollett on the 09/05/2015